Toyota of Bozeman Auto Care Program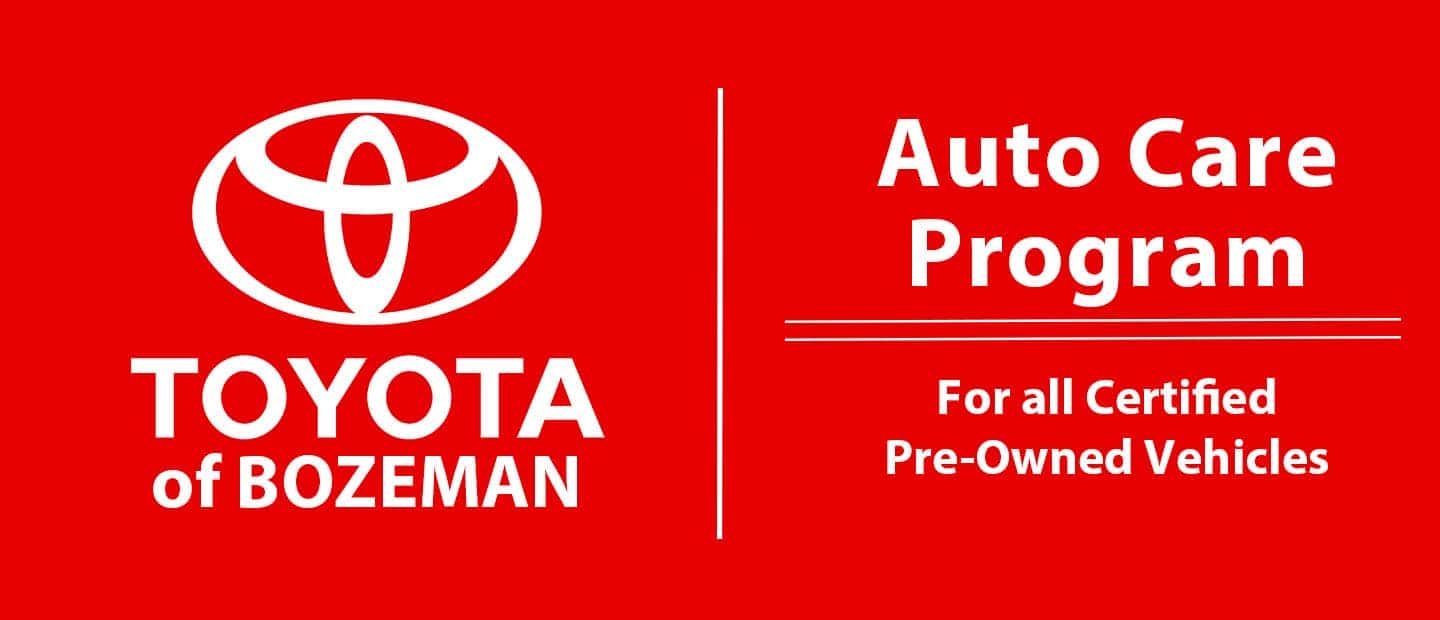 PEACE OF MIND INCLUDED WITH EVERY QUALIFIED USED VEHICLE PURCHASE
When you buy a high-quality, pre-owned vehicle from Toyota of Bozeman, you purchase it with the peace of mind of knowing it has passed a thorough multi-point safety and mechanical inspection and is covered under our exclusive "Bozeman Auto Care Program."
Classic Plans Available
Several long-term maintenance plans are available for purchase, and, if financed, can be conveniently included in your monthly payment (subject to credit approval).
1 Year/15,000 miles (whichever comes first) ** Included with ALL Certified Toyota Vehicle Purchases
2 Years/25,000 miles (whichever comes first)
3 Years/40,000 miles (whichever comes first)
4 Years/55,000 miles (whichever comes first)
Oil and Filter Change
Multi-Point Inspection, that may include:
Fluids Inspected & Replenished:
Brake Master Cylinder
Clutch Master Cylinder
Transmission
Differential
Coolant
Windshield Washer
Power Steering
Transfer Case (applicable vehicles)
Visual Inspection:
Air Filter (cabin & engine)
System Hoses (cracking/leaks)
Drive Belts (cracking/damage/wear)
Axle Boots (damage/leaks)
Shock Absorbers/Suspension
PCV Valve (if applicable)
Cooling System
Exhaust System/Muffler
Tire Wear
Windshield Wipers
The multi-point inspection of critical components in your vehicle can help save you money and by identifying potential problems, such as excessive wear. Early detection can reduce the possibilities of parts failure.
The Auto Care Program also includes:
24-Hour Roadside Assistance. This coverage provides you with 24-hour roadside assistance for the full term of your agreement.
Coverage includes (parts & fluids excluded):
Lockout Protection
Flat Tire Changes
Jump Starts
Emergency Fuel Delivery
Towing for Mechanical Breakdown & Collision Recovery