Toyota 4Runner near Livingston, MT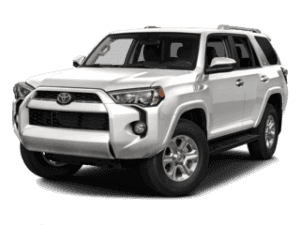 Underneath the hood of every Toyota 4Runner beats the heart of an adventurer. Never has there been a SUV so ready to get off the pavement, and onto the backroads near Livingston. When you own a 4Runner, it doesn't matter what life throws at you; you have it covered each and every time. Snowy roads, mud holes, the 4Runner does it all. Take the short drive to Toyota of Bozeman to take a test drive with their professional, knowledgeable sales staff and get out and have an adventure today.
Rugged Good Looks
If looks are important to you, then you will love the 4Runner. With many great trim options, the 4Runner comes equipped in many configurations sure to meet your needs. If you love getting dirty, the 4Runner has several different offroad configurations that just love getting dirty. If you love great features, but love saving money, the SR5 is exactly what you have been looking for. If you love top end features, the 4Runner comes in several outstanding premium offerings sure to meet and exceed your needs. Stop by Toyota of Bozeman and see all of these great trim models for yourself.
Build to Last
If you are expecting a vehicle that can take a punch, then the 4Runner is not what you are looking for; but if you are looking for a SUV that can take a punch and keep on going, you will love this vehicle. The 4Runners body-on-frame construction ensures that this vehicle can handle the roughest roads with ease. Crawl Control and Multi-terrain Select mean that just because the road stops, you don't have to. Finally, plenty of storage space means that you have more room for the gear that you need when you get where you are going. Stop by Toyota of Bozeman to see these and all of the other great features in each and every Toyota 4Runner.