2018 Toyota Yaris For Sale in Bozeman, MT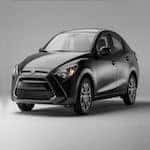 Are you in the market for a new subcompact car? Do you have a budget in mind? Features that you just have to have? A particular color? No matter what you are looking for, the 2018 Toyota Yaris is sure to impress. This fun to drive, well equipped subcompact car is a great way to get around the streets of Bozeman. Whether you are a student, or just in need of a reliable means of transportation, you can't go wrong with a Yaris. So, when you make that all important decision to check one out first hand, let the Toyota professionals at Toyota of Bozeman show you the way.
Saving You More Mile After Mile
When it comes to the cost of owning a vehicle, only half of the battle is in the starting price. The rest comes in the form of the amount of money that you spend at the fuel pump and the cost of repairs throughout the life of your vehicle. If you just so happen to own a 2018 Toyota Yaris, the cost of vehicle ownership is lower than you might imagine. With an EPA estimated fuel economy of 30 mpg city and 36 mpg highway combined with that legendary Toyota longevity, your new Yaris will save you more money mile after mile. Check it out at Toyota of Bozeman, and get your new Yaris before the Holidays.
A Fresh Face
For 2018, the Toyota Yaris is looking for refined and better than ever. A great looking and redesigned exterior gives you more curb appeal. An LED daytime running light bar gives you the light you need and the looks that you want. All of this combined with a refreshed dashboard leave you with a vehicle that you can't wait to drive. Come see these and all of the other updates that come with the 2018 Toyota Yaris on the lot of Toyota of Bozeman, we promise that you won't be disappointed.