2018 Toyota Tacoma For Sale in Bozeman, MT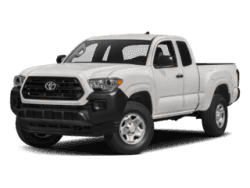 If you have always wanted a Toyota truck, but never believed that it was in the budget, the 2018 Toyota Tundra is the truck that you have been looking for. Great looks, great features, and that legendary Toyota quality that simply cannot beat are all waiting for you. Come see just how affordable bringing home that Toyota Tacoma that you have had your eye on can be. Buy or lease, the professionals at Toyota of Bozeman are here to help you. Shop online, stop by or give us a call today.
The Right Size Truck for the Job
While the 2018 Toyota Tacoma might not be the biggest truck on the road, it doesn't need to be. That is because the Tacoma is the right size of the truck for the job. What that job may be is certainly up to you. The Tacoma comes ready and willing to get to work with a towing capacity of 3,500lbs and a payload of up to 1,620lbs, perfect for those small to mid-sized jobs that many of us do on a regular basis. Come find the Tacoma that fits you on the lot of Toyota of Bozeman, and get the right size truck right now.
Excellent Fuel Economy Out of a Truck
When it comes to spending time at the pump, more time spent means more of your hard earned money down the drain. Thankfully, the 2018 Toyota Tacoma has excellent fuel economy to the tune of an EPA estimated 19 mpg city and 24 mpg highway. That means more money in your pocket at the end of the day. Get your first sample of all of the reasons that Tacoma ownership simply makes sense on the lot of Toyota of Bozeman and find out why fuel economy matters.