2018 Toyota C-HR For Sale in Bozeman, MT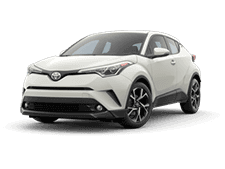 If you are looking for a fresh-faced take on the modern crossover, the 2018 Toyota C-HR is ready and waiting for you. Whether you are looking for seating space, fuel economy, or good looks with a little extra cargo space, the C-HR is what you have been searching for. The best way to experience this outstanding vehicle is behind the driver's seat on a test drive at Toyota of Bozeman. They have the selection and the service that make the difference between a good car shopping experience and a great one.
New, Exciting, Innovative
Sure, there are other crossovers on the market, but when it comes to getting that precise balance between looks, performance, and seating space, it is a precarious line to walk. That is where the all-new 2018 Toyota C-HR comes into play. From the moment you see this vehicle, you are going to be impressed by the aggressive stance and the aerodynamic build. Once inside, you are going to understand why the C-HR is so perfect for you. Check it out in person, and get the right one to fit your life in Bozeman at Toyota of Bozeman and love your new C-HR from day one.
More Than Just Great Looks
When it comes to choosing the right vehicle, not having the color that you have had your eyes on can ruin a great thing. Thankfully, the 2018 Toyota C-HR comes in nine eye-catching color choices or combinations that you are sure to love Don't believe us? Take a look in person and see why the C-HR is more than just great looks; it's a work of art. Find yours at Toyota of Bozeman, and get the right color on the crossover that is changing the game.