Bridger Edition RAV4
The Bridger Edition RAV4 only at Toyota of Bozeman
What do you look for in a vehicle? Are you adventurous, looking for a vehicle that can climb a mountain or cross a fast-moving river? Are you a parent, that needs a combination of space, safety, and gas mileage? Or maybe you spend your days driving across the country exploring new towns and meeting new faces? Whichever category you find yourself falling into, we at Toyota of Bozeman have a vehicle that encompasses each one of these demands – the Bridger Edition Rav4.
Introducing the 2017 Bridger Edition RAV4. It comes with the things that we adrenaline junkies are looking for in our new car. The Bridger edition RAV4 comes with aftermarket BBS rims, oversized off-road tires, and a level kit. This gives it the ability to tackle trails and looks exceptionally good doing it. Next, the RAV4 is fitted with a roof rack system and a basket all made by Yakima. A perfect addition that allows even more cargo hauling capabilities. This vehicle also has paint protection clear bra to keep that paint fresh instead of dealing with those nasty rock chips. No more worrying about if those bugs are going to pull the paint off the hood and grill when you scrape them off with bug remover. Lastly, the vehicle has been given a street legal window tint to block harsh UV rays and give the driver a more comfortable experience (plus it looks cool).
Safety Sense Standard
The Toyota RAV4 comes standard with Toyota Safety Sense. This includes a Pre-Collision system with pedestrian detection, lane departure alert with steering assist, automatic high beams, and a dynamic radar cruise control system. Along with many other safety features, so as a parent or accident concerned individual you can have a piece of mind driving this RAV4. This RAV4 is not only safe but it also has great gas mileage and a comfortable, smooth ride. With a combined gas mileage of 27mpg you can feel relaxed driving back and forth from work or taking the family on a cross country trip to the Grand Canyon. It also comes with a multi media touch screen audio system that will give you the ability to listen to whatever music you want on that 12 and a half hour drive. Whatever road you want to travel, the Toyota RAV4 Bridger edition will conquer it. For more details about the Toyota Safety Sense click HERE!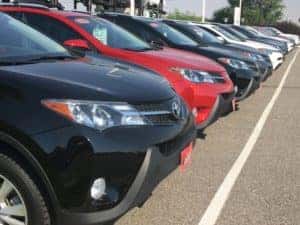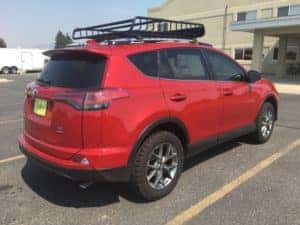 So why buy the Bridger edition RAV4? The real question is what's stopping you? If you fit into the category of an adventurer tamed to sit and work on the weekdays then this is the vehicle for you. You can push further up that steep rocky road, store those smelly athletic bags outside of the car, and even have a kid that is proud to be dropped off in front of school. With the RAV4 Bridger edition, you will have the ultimate, rock eating, off-roading, kid hauling, commuter SUV that you can find. No more soccer mom vans, no more 5 mpg jeeps, and no more searching for something that can do it all. The Toyota RAV4 Bridger edition is here.
Text written by Evan Bradford