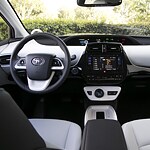 The Toyota Prius from Toyota of Bozeman has long been known as one of the most advanced vehicles on the planet. That's why you'll find that it's packed with multiple high-tech features that allow for greater convenience during your drives in and around Bozeman, MT.
For starters, the available color head-up display allows you to see important vehicle information without diverting your eyes from the road. Offering up information, such as your current speed, a hybrid system indicator, and more, this technological marvel truly makes it easier to stay focused on keeping you and your passengers safe and sound.
Another great system to have is the tire pressure monitoring system. Since proper tire inflation is vitally important, the Prius includes a standard system that performs constant checks on your vehicle's tires and provides alerts when there's an issue. This allows you to spot problems early so that you can have them repaired long before they have a chance to cause damage to your tires.