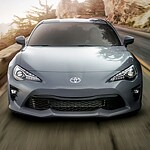 The Toyota 86 is a car with 6-speed automatic transmission. It is good on fuel because it can get up to 32 miles per gallon. It is a two-door car. People like the way that the vehicle looks. The inside of the vehicle also has a sporty look.
The Toyota 86 has a sport steering wheel with audio controls. The steering wheel has a small diameter. You will be able to quickly steer your vehicle. The feature also has integrated audio control, which allows you to access your music while staying in control of the vehicle.
This vehicle also has a smart key system. You will be able to unlock your car when your key is in the pocket or bag. You will also be able to start your car by pushing a button. It is a good idea for you to take the car for a test drive before you buy it.