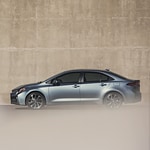 The Toyota Corolla efficiency features really deliver with its amazing fuel efficiency. The Hybrid gets even more with 53 miles per gallon in the city and 52 on the highway. You'll love the way the Corolla drives through Bozeman. It comes equipped with a 2.0-liter dynamic force engine that gives you 169 horsepower for some serious get-up-and-go.
The Toyota Corolla CVT system is a dynamic shift system to help you have a perfectly smooth drive. Available sport mode gives even more for your acceleration when it counts. At Toyota of Bozeman we know you like features that deliver. The performance boost system delivers at the push of a button.
There are so many options available for efficiency packages. The Hybrid power mode increases throttle action. All of these give you one of the most efficient EPA estimated fuel economies yet. Toyota really delivered with the Corolla.