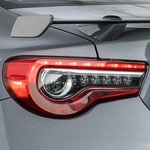 Overview
The new Toyota 86 is back with several new features and a new design. With a sleeker design, the 86 is ready to confidently take on streets and racetracks. Even when you are off of the track, the new 86 will allow you to feel like you are driving your own racecar.
Sporty Feel
The seats of the new Toyota 86 hold their passengers very well, and these seats can be upgraded to an even-more comfortable set of bucket seats. You can choose to change the gears of your 86 with either a six-speed manual transmission or a six-speed automatic transmission. Models that are equipped with the six-speed automatic transmission will receive steering wheel-mounted paddle shifters to provide a more-inclusive driving experience.
Technologies
The Toyota 86 is equipped with the technology features that drivers want and need. A digital gauge allows drivers to change its appearance through different driving modes.