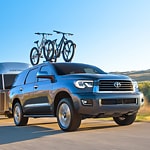 Thanks to its spacious interior and jaw-dropping exterior design, the Toyota Sequoia has earned its place as a popular SUV. Another way that the Sequoia enchants its owners is through the inclusion of state-of-the-art technology that helps make short drives around Bozeman, MT, and long trips away from home enjoyable and efficient. Here are just a few ways that the Toyota Sequoia steps up to the plate when it comes to technology.
If you want to be prepared for every situation, then the standard Safety Connect system is perfect for you. Around-the-clock emergency assistance is available for vehicle breakdowns, medical issues, and other unexpected occurrences. All you have to do is push a button on the dash, and you'll be immediately connected to someone who can help you. Also impressive is the standard Service Connect system that keeps you in-the-know about vehicle usage statistics and upcoming service needs right on your phone.
For a better idea of how the Sequoia can improve your life, we at Toyota of Bozeman encourage you to stop by today.