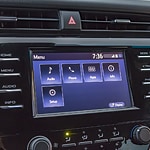 Multimedia access and smartphone connectivity mean a lot to car consumers. Toyota wants its loyal buyers to know the Entune 3.0 audio and app suite delivers features tech-oriented shoppers might appreciate. Toyota produced an intriguing in-house option for shoppers looking for a system that delivers a preferred mix of information and entertainment.
The 8-inch touchscreen provides a way for drivers or passengers to utilize integrated apps. More accurately, the touchscreen is one way, as physical buttons on both sides of the screen provide another option. The easy-to-use touchscreen interface might be the preferred option, though.
Interestingly, Entune works with cloud-based programs that allow owners to remotely monitor the vehicle. Use a smartphone to do so, and use a phone app to remotely unlock or start your Toyota.
Bozeman, MT Toyota buyers might wish to look at the newer versions of Entune in more recent models. Toyota of Bozeman has such vehicles in stock and awaits visiting shoppers.