2017 Toyota Tundra vs 2017 Ram 1500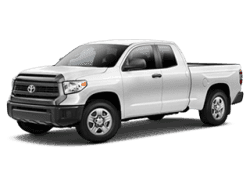 When you are looking for a truck, you want a whole lot of vehicle for your money. It must have 18 inch wheels and a V8 with torque to spare. You don't want to have to pay extra for those, do you? When you choosing between the 2017 Toyota Tundra vs 2017 Ram 1500, you can expect the features that you assume to be standard on the Tundra, but you had better check the details on the Ram 1500.
2017 Toyota Tundra vs 2017 Ram 1500 A Bit Extra
When you are driving a truck, you are looking for more and the Tundra delivers. With more legroom in the front of the 2017 Toyota Tundra, you will actually feel like you are driving a large vehicle. The Tundra also boasts a longer wheelbase and 18 inch wheels on a comparable length vehicle. The longer wheelbase means that the wheels are closer to each corner of the vehicle, which gives greater control and balance. This is demonstrated in the smaller turning circle of the Tundra, something that you will appreciate when navigating tight parking lots and driveways.
2017 Toyota Tundra vs 2017 Ram 1500 Comfort
A power adjustable driver's seat shouldn't be a luxury and in the 2017 Toyota Tundra, you can sit where you are perfectly comfortable, at the touch of a button. You will be left wanting with the manual seat adjustment on the Ram 1500. When you have such a large vehicle, you don't want any other drivers of your vehicle failing to adjust the seat properly because it is just too tedious.
2017 Toyota Tundra vs 2017 Ram 1500 Safety
With a better IIHS rating than the Ram 1500, the 2017 Toyota Tundra has a safety advantage. With front knee airbags and blindspot warning system, the Tundra takes the lead and stays there. Add the benefit of ToyotaCare to your new vehicle purchase and two years of scheduled servicing, with no out of pocket cost will keep you smiling for longer. Your smile will start when you come in for a test drive at Toyota of Bozeman.