2017 Toyota Tundra vs 2017 GMC Sierra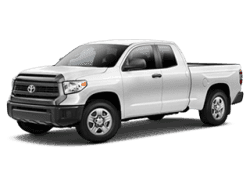 The big boys are in town with the full sized trucks taking the field. When you go big, you want value and features but you also need to be sure that the truck you buy, is going to do the job with ease. We have compared the 2017 Toyota Tundra vs 2017 GMC Sierra and have highlighted a few important points, so that you don't miss things that will impact you after purchase.
2017 Toyota Tundra vs 2017 GMC Sierra V8 Power
When you are looking for a torque advantage, the V8 will win the race every time. All 2017 Toyota Tundra vehicles have V8 powerplants, either a 4.6L or 5.7L. On the entry level GMC Sierra, a V6 engine is offered and trails the Tundra by 25hp and 25lb/ft of torque. So when you need the full capability of your truck, you will be left short by the Sierra.
2017 Toyota Tundra vs 2017 GMC Sierra Turning Circles
When you drive a truck, the maneuverability is an important consideration. It is not something that you think about out on the highway but as soon as you enter a parking lot or driveway, it suddenly becomes your prime consideration. The 2017 Toyota Tundra has a smaller turning circle than the GMC Sierra. This translates into a vehicle that enters and exits driveways easier and doesn't cause as much trouble when looking for a park.
2017 Toyota Tundra vs 2017 GMC Sierra Safety
Your new 2017 Toyota Tundra has the benefit of brake assist to ensure that maximum brake force is applied under emergency braking situations. This is turn gives you the full benefit from the anti-lock braking system. When you have a big vehicle, you need to be sure that it will stop safely when you need it to. The Tundra will help you when you most need it, Toyota of Bozeman will show you how.