2017 Toyota Tundra vs 2017 Ford F-150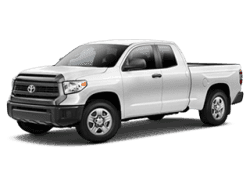 We know that there are a myriad of reasons that people prefer a Toyota. When you are ready to purchase a new truck, the list of benefits are long and exhaustive. We know that you are busy. So we have taken the time to look a bit deeper and find some comparisons that you may not notice at first glance when you consider a 2017 Toyota Tundra vs 2017 Ford F-150.
2017 Toyota Tundra vs 2017 Ford F-150 V8 As Standard
There are plenty of engine options with the Ford F-150, but plenty of options, does not guarantee a happy consumer. The 2017 Toyota Tundra boasts two V8 engines that offer longevity with power and torque to spare. When you have a truck, you want it to be able to handle all the situations that come your way and sometimes that means a standard V6 engine, just isn't going to cut it. Don't be forced to pay more for an engine that will do the job, just buy the Tundra.
2017 Toyota Tundra vs 2017 Ford F-150
With both vehicles offering 5.5ft, 6.5ft and 8ft bed lengths, you may think that there is no comparison. However, the longer the vehicle, the harder it is to maneuver in tight spaces. The Toyota Tundra is three inches shorter in overall length than the F-150 and also has a smaller turning radius. You are not going to notice the difference looking at them, but you will certainly notice the difference when you are in a parking lot.
2017 Toyota Tundra vs 2017 Ford F-150
Don't forget that when you purchase a 2017 Toyota Tundra from Toyota of Bozeman, you will receive the benefit of ToyotaCare. Two years of no cost factory scheduled servicing and two years of free 24hr roadside assistance, is not just a perk of buying a Toyota passenger car. It is extended to all Toyota vehicles, whether purchased or leased. Come in and see how easy it is to drive away in a new 2017 Toyota Tundra.