2017 Toyota Corolla vs 2017 Honda Civic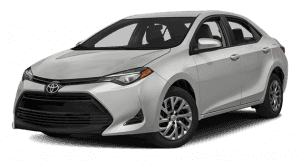 The Toyota name speaks for itself. The Corolla has been a household name since the seventies and remains a leader in the small car class even today. Toyota has built a reputation on reliability and function, a reputation that is the envy of our competition. Not much compares with the Corolla and if you are considering a Honda Civic, we will show you why in a comparison of 2017 Toyota Corolla vs 2017 Honda Civic, there is no competition.
2017 Toyota Corolla vs 2017 Honda Civic Smart Key
Don't be wasting time looking for your keys. You know they are in your bag or one of your pockets, and that is good enough for the 2017 Toyota Corolla. With Smart Key and push button start available, you can access all doors, trunk and ignition, without first needing to find where on your person you've put the key. This means you will be first out of the carpark, and first on the way home for the day.
2017 Toyota Corolla vs 2017 Honda Civic Safety Sense
Standard Toyota Safety Sense P (TSS-P), helps to keep you safer in a Corolla. Continuously scanning for potential collision hazards and pedestrians who may stray into your path, the Corolla will alert you in plenty of time to react to the situation. If the worst happens and you fail to respond, the Corolla may even apply the brakes for you to ensure you get to where you are going without incident. On the base model Civic, you will need to add optional features to get similar.
2017 Toyota Corolla vs 2017 Honda Civic Sporty and Sensible
With continuously variable automatic transmissions standard on Corolla, driving is just that bit easier. However, if you are looking for a fun change when the road ahead gets interesting, manual control of the transmission can be taken via paddle shifters. The benefit of the Corolla is that you don't have to have a manual, for the benefit of a manual, and when the fun is over, pop it back in "D" for the convenience of automatic. Come and give it a try at Toyota of Bozeman.