2017 Toyota Corolla vs 2017 Ford Focus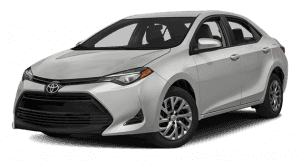 In the race for the small car market, there are multiple vehicles available for your consideration. Take the 2017 Toyota Corolla vs 2017 Ford Focus, for example. Both are popular choices but there are many benefits in picking the Toyota Corolla. We are happy to present some of these to you. The Toyota Corolla has been one of Toyota's best selling products for decades. This is due to our unwavering commitment to providing a functionable and reliable vehicle to give you years of trouble free motoring. But wait, there is more.
2017 Toyota Corolla vs 2017 Ford Focus Economy
We know that driving your dollar further is important to you. So therefore, you will be pleased to know that the 2017 Toyota Corolla gives you 28 miles per gallon. That's two extra miles per gallon than the Ford Focus, when driving in the city. That's a big difference when you think about how far you drive in a year. We call that a win for you, and a win for the environment. What will you spend the savings on?
2017 Toyota Corolla vs 2017 Ford Focus Fuel Capacity
Whilst we are talking fuel, the fuel tank in the 2017 Toyota Corolla is bigger than the Ford Focus. The difference is 13.2 gallons compared with 12.4. This may not seem like a deal breaker, but the bigger the tank, the less you will need to stop and refuel. So the Toyota Corolla saves you time, as well as money.
2017 Toyota Corolla vs 2017 Ford Focus Smooth Transitions
The Toyota Corolla has an automatic transmission as standard on all trim levels. The Ford Focus has automatics available on all trim levels but there is something that they are missing. CVT, or continuously variable transmission, which allows seamless gear transitions. There are no defined gears, rather a smooth gliding gear that gives you the perfect power and torque for whatever situation you are in. Toyota of Bozeman can show you the smooth Corolla difference.