2017 Toyota Corolla vs 2017 Chrysler 200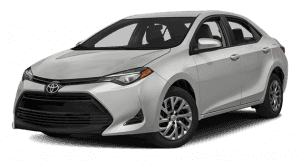 When you are looking for a compact car, there are many options but only one is truly economical and reliable. Toyota prides itself on on its history of building quality cars that have forged a formidable reputation in the automotive world. When you are comparing the 2017 Toyota Corolla vs 2017 Chrysler 200, you won't be wondering which is the car for you for long. We have done the homework for you, so that you can skip ahead to the test drive.
2017 Toyota Corolla vs 2017 Chrysler 200 The Right Price
A compact car doesn't need a mid-sized price. The Toyota Corolla delivers on price and value. You will save thousands on a comparable spec vehicle by choosing the Toyota. If that is not enough, ToyotaCare gives you two years factory scheduled servicing with no out of pocket charges and two years complimentary 24hr roadside assistance.
2017 Toyota Corolla vs 2017 Chrysler 200 Economy
There is just no comparison when it comes to economy. When most of your driving is stop/start around the city, your fuel bill can become out of control. This is because it takes a lot of energy to start and stop your vehicle and your vehicle derives that energy from gasoline. The 2017 Toyota Corolla sips its way to achieve 28 miles per gallon whereas the 2017 Chrysler 200 only manages 23 miles per gallon. With a 13.2 gallon tank in the Corolla, that's 65 extra miles before you need to refuel.
2017 Toyota Corolla vs 2017 Chrysler 200 Bluetooth
So why don't you give Toyota of Bozeman a call and arrange a test drive of the Corolla today. We know you will love it. Then the next time you need to call us, it can be via Bluetooth from the comfort of your new 2017 Toyota Corolla. If you choose a Chrysler 200 LX, you will need to pull over and use your handset as Bluetooth isn't even an option.